---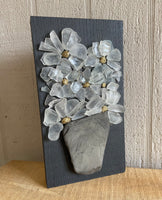 Beach glass daisies on 5" x 9 1/2" salvage wood. White, beach glass petals, and all centers are beach stones with a bit of shimmery gold glitter on them (sealed). The "pot" is a salvaged beach stone. 
This one could be hung on a wall, and also stands on it's own on a mantle or bookshelf. Background painted charcoal gray shade of Fusion Mineral Paint.  
My dogs and I walk on the beach each day. They swim,  run off excess energy and I collect beach glass, stones, metal, wire, plastic, rubber... bring it all home in my backpack to be used in my art—or recycled.  
Free Shipping.