---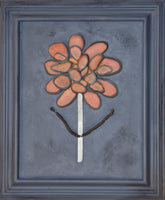 Funky Flower ~ Original Art 
Original art housed in a vintage 10 1/2 x 12 frame. Both frame and background are painted charcoal gray. The single flower is made from stones that are painted in reds, oranges, and some golden yellows. Stem and petals are metal found along the beaches of Lake Erie (Cleveland). Sprayed with matte sealant to protect paint colors and metal. Signed, dated 2015.  
Unique & Fun! A diversion from my trademark daisies...
Solid Construction. Made to last. 
Prints not available.