---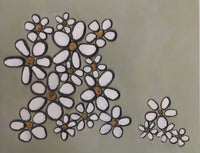 Sale
"Darling Daughter" giclee print, professionally scanned from original work, unframed. There are 50 prints available in the series, all signed and numbered. Available in two sizes.
Please contact me for commissioned original daisies. They remain a favorite and I'm happy to quote a price, create custom art per customer specifications  
ORIGINAL SOLD. 
The Story...
I chose the colors as they reminded me of my daughter. In my blog Playing with Perfect, I've jokingly called my female offspring "Darling Daughter" for years. She teases me incessantly about my "sticks and rocks" and the "art" I've been creating since 2011. When I finish something and she loves it, she stops mocking me for a few minutes. "Darling Daughter" is her favorite. She made me promise not to sell it, so she could keep it. Others wanted it, so I found a way to make prints. Darling Daughter ended up wanting a print in a vintage frame, and it hangs in her college apartment. The original is sold. 
Free Shipping.