---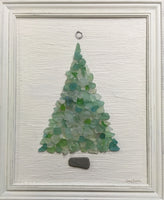 Soft turquoise beach sea glass tree on vintage canvas, set in vintage frame, painted soft creamy white. The base of tree is rectangle beach stone, topper is metal found on beach, and the tree is a collection of pale green and turquoise color beach glass. 
I cannot make these fast enough during the fall months. I've been commissioned to make many as gifts. I generally only make 2-3 originals per year, before running out of both glass and patience. In 2013, after depleting my green glass supply, I experimented with turquoise--and this color has been hugely successful. A happy accident! 
Prints Not Available. 
INFORMATION
Vintage frames are one of a kind. Depends on what I find! Love to paint, refinish,  and upcycle vintage and antique frames. All prints and frames go to a professional framer, to ensure they are properly put together.
Packaging: Prints are typically packaged on foam backing board and sealed in clear wrapping. For easier shipping, prints may be rolled and shipped in mailing tubes. Framed prints and Original Beach Art will also be carefully packaged for safe shipping. 
In the Cleveland area: I'm willing to make alternate arrangements for those in the Cleveland not needing shipping. Contact me!
Materials: I find what I find. All Originals are one of a kind, and cannot be reproduced. It's particularly difficult to find enough beach sea glass to create my Christmas trees. They are time consuming to make and often sell very quickly.