---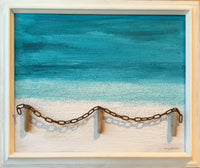 "Sanibel" is named for the beautiful beaches found on the gulf coast of Florida. But it could be any beach. Textured background, vibrant turquoise that fades down to a sparkly, white sand "beach." Driftwood and metal fencing. Housed in a painted, vintage frame. 
The beach always inspires me. Any beach. East Coast or West Coast of the United States, anywhere in the world. Beaches are magical places. 
PRINTS NOT AVAILABLE.